De Greg sur Raftel Forums
: les enfants de la Marine.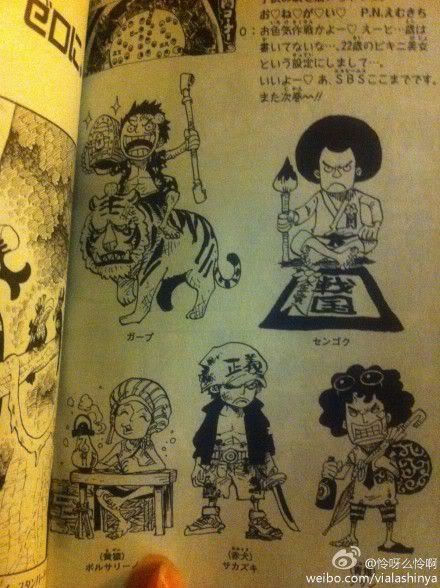 Les noms en spoiler si jamais certains ne trouvaient pas qui est qui
Gloire à qui, loin de tout idéal sacro-saint,
Se borne à ne pas trop emmerder ses voisins.
---
Moussaillon
Messages : 93
Inscription : mar. mars 02, 2010 3:11 pm
Localisation : Montpellier
Akainu (rachel) roxxx comme ça et Garp sosie de Luffy!!
Par contre Aokiji quelle sale gueule...!XD
---
Ah ah j'adore toujours autant ces pages !

Luffy qui a eu la même jeunesse que son pépé avec le même tuyau pour se battre et amour pour le dressage !

Akainu par contre a l'air d'avoir eu une enfance moins heureuse (pas que lâcher des gosses dans la jungle ça soit la meilleure éducation possible mais bon), un début des raisons qui l'ont poussé à s'engager dans la Marine et appliquer une justice répressive ? (d'ailleurs si quelqu'un sait ce que signifient les Kanjis sur son bandeau ...)

et les têtes des 3 autres sont épiques, j'ai pris Kizaru pour un scribe
---
Coco a écrit :(d'ailleurs si quelqu'un sait ce que signifient les Kanjis sur son bandeau ...)
正義 = Seigi = Justice
---
Capitaine Corsaire
Messages : 11375
Inscription : lun. oct. 14, 2002 8:52 am
Localisation : dans toutes les bonnes auberges
Contact :
En tout cas, comme Luffy, Garp a sa cicatrice depuis tout petit donc.
---
---
Capitaine Corsaire
Messages : 11375
Inscription : lun. oct. 14, 2002 8:52 am
Localisation : dans toutes les bonnes auberges
Contact :
Trad des sbs par greg sur raftel forum :
Section 1

Someone wrote 'underwear 3,787 times across three postcards and Oda counted....

........

*sigh*


Inside Camie's backpack lie: dreams, soy sauce & butter. Dreams? That could be anything but the soy sauce and butter? Likely for frying up scallops.


He confirms that Hachi and Hyozo went to the same dojo but Hachi couldn't match Hyozo and that he is the one Hachi mentioned way back. derp.


Section 2

i'm assuming you've all seen the 'new' crew jolly rogers on merchandise. If not, please let me know and I'll get them for you since they're readily available over here. Anyway, I largely ignored them seeing as how they royally fucked up the original crew marks while ignoring Oda. It turns out THIS TIME they came to him for approval and he said, "This is totally off!", and corrected them to his liking. So what you see on the merch for the post-timeskip jolly rogers are correct.

Oh! Do be wary of Luffy's though! His is exactly the same. So if it looks different anywhere, don't buy it.


Wow...Oda's repeating himself here. Someone asks why he chose to make his hero a rubber person since it seems so weak, unlike many other main characters. He gives the same response he gave years ago, he chose the weirdest ability (fruit) possible because he couldn't stick with the story if he was really cool and strong. If the story gets serious he can just start stretching or blowing up and start messing around.


Section 3

Mermaid names!!! Pic on Facebook page for now:
From left to right (spellings NOT official):
Ishilly- Striped Beakfish-type
Kairen- Flounder-type
Hilameyla- Halibut-type
Seyla- Marine Angelfish-type
Mello- Smelt-type

WOW!!!!!!!!!!!!!!!!!!!!! THIS IS INTERESTING AND FINALLY REVEALS PRECISELY WHY ODA DOESN'T HAVE LUFFY SAY 俺 or 'ore' in kanji, only hiragana!!!!!!

A fan asks why Oda always wrote 'taiyou' or 'sun' in katakana when the Fish People (Mermaids, Mermen and Fish Men & Women) were talking about it. He says he didn't do it intentionally but it just came naturally. He explains that to write a lot of kanji in the lines of a fairly dim character (ie Luffy!) would be out of place and conflict with their persona. Whereas in this case, they don't really understand what the 'sun' is so they express it in a written expression that (in Japanese) is largely reserved for 'foreign' objects, people, places etc. I actually got that impression myself when reading but this finally makes his stance clear on Luffy and is indeed intended to augment his child-like nature.

YOWZA!



Section 4.


Someone asks why Oda is making t-shirts that describe the current scenario on background characters. For example, one character has a shirt that reads 'Sore ga iiyo' which fits with the current conversation in Japanese. He's essentially destroying the fourth wall. He says it's because he enjoys it and he's into it right now. He was also asked what kind of fish the young fish girl with four arms was. He says he didn't quite think out the type but that it was probably an 'ancient' fish (not to be confused with prehistoric) and that many of the ancient fish had multiple 'fins' so it goes without say that ancient fishpeople-types would have multiple limbs.

fyi. This carries over to Icaros seeing as giant squid are considered an ancient variety irl.


Weird question about being tied up and what kinda face you should make when in such a position....Just gonna leave that....



Section 5

Fan asks who he considers a rival from the series and suggests Franky. He says Nami since they probably have similar bust and waist measurements.

Shirahoshi's birthday is April 4th. Gag etc.


Someone asks that, "...if Luffy knocked out 50,000 people with Haoushoku, how many could Shanks have knocked out with Haki?" Oda suggests that Shanks could 'probably' have knocked out ALL 100,000 attackers under those exact conditions. He says in any other case, it's not just a question of 'how many'. Knocking out someone with Haki is a matter of what happens when there's an impressive difference in strength between two individuals. It's a matter of whether or not there are fighters that simply could not compare to Luffy or not. Furthermore, upon improvement of the technique, Haoushoku may also be applied only to specific individuals in a crowd.


Oda also includes a section in the back called K15R or 'Kotoshi 15nen Rashii' meaning, "I Guess It's Been 15 Years' in which he promotes three of the One Piece goods/events coming early this year: The collaboration animal statuettes, the exhibition and the Musou game. I would translate it if there was anything particularly interesting but aside from a funny self-depreciating beginning, there's not much we haven't heard about already. He does shed some light on his involvement in each process. He's been a fan of Asakuma for about 7 years and has wanted to do a collaboration with him for a while now (you'd know this if you read my Deep Thoughts webpage) and at the art exhibit also expect to see some of Oda's artwork 'move' whatever that means.
Et la couv en grand, up par loicos d'arlong park
---
Capitaine
Messages : 1077
Inscription : lun. juin 29, 2009 12:14 am
Localisation : au fond à droite
J'adore les SBS. Surtout quand ils ocnfirmes le génie d'Oda. (référence à Hyouzou dans le tout premier arc)
Monkey D a écrit : Shirahoshi's birthday is April 4th. Gag etc
Le truc du poisson d'Avril, c'est pas le 1er Avril au Japon ?
Tu t'es vu quand t'as bu ?
---
Et il a battu le record (dans les 600 000) de vente pour une deuxieme semaine, le tome d'avant est toujours dans le top 30 avec plus de 3 millions d'exemplaires.
Source Oricon.

En y pensant, le tome 66 ça va être une tuerie, fin de l'arc HP et début du nouveau monde.

Top Oricon du 13 au 19 Fevrier : le tome One Piece 65 s'est vendu 2.729.671 exemplaires
---
Verte Lanterne
Messages : 2787
Inscription : sam. janv. 12, 2008 1:37 pm
Localisation : Les marches oranges - amphi DD
J'adore les petits marines ! Surtout Kizaru, il a une pure bouille, c'est définitivement mon amiral préféré.
Acillatem a écrit : Ensuite deux modifications par raport aux scans, Shirley chap 644 et Zoro (l'oeil ouvert...) chap 640.
Alors c'était bien une bourde pour Zoro ! Pauvre Zoro...
The earth is a bitch We've finished our news Homo Sapiens have outgrown their use
All the strangers came today And it looks as though they're here to stay (David Bowie)
---